LuxeEyes in Cincinnati, OH
What is LuxeEyes?
LuxeEyes is a combination of an Upper or Lower Blepharoplasty with a VolumeLift℠: Fat Transfer. The Blepharoplasty surgical procedure is designed to improve the appearance of puffy lower eyelid bags and drooping of the upper eyelids to restore a more youthful look. Fat Transfer is a surgical procedure where fat is removed from another area of the body, for example, the abdomen, and is then reinjected into the skin where it acts as a skin volume filler. Combining the two will give a much more youthful, rejuvenated appearance.
LuxeEyes Procedure Summary
| | |
| --- | --- |
| What is the pain level after surgery | Mild to moderate |
| Anesthesia Type (if applicable) | Twilight (IV Sedation) |
| Duration of Surgery | Approximately 1-3 hours |
| Where will scarring for this procedure be | Hidden along the natural crease of the upper eyelids |
| Timeframe to begin showing the final results | Typically 2 weeks |
| When is the patient able to return to regular activities | 1 week for most activities |
| When is the patient able to resume exercise | 2 weeks |
Tired of Looking Tired?
Natural rejuvenation of the eyes to restore the beautiful contours of youth using our exclusive Rapid Recovery Technique!
How am I a candidate for LuxeEyes?
If you are looking to improve the appearance of puffy lower eyelid bags and/or drooping of the upper eyelids along with restoring a youthful appearance, the LuxeEyes may be right for you.
What happens at the consultation for LuxeEyes?
During the consultation, Dr. Donath will meet with you to examine your eyes and your face to discuss your goals, and take a thorough medical history. If you have certain medical conditions like circulatory or ophthalmologic problems, special considerations may need to be made. Dr. Donath will weigh other factors like your age, skin type, and facial structure to determine if the LuxeEyes procedure is right for you. He will go over the recommended technique, the anesthesia, the surgical facility, the risks, and costs will be discussed along with any questions or concerns you may have.
Luxe Eyes Before and After
*Each patient is unique and individual results may vary.
What Anesthesia is LuxeEyes performed with?
LuxeEyes may be performed with local anesthesia and light sedation or with general anesthesia.
How is the LuxeEyes procedure performed?
Dr. Donath begins with the Blepharoplasty surgery by making incisions. The upper eyelids are along the natural lines and creases. The lower eyelids may be located along the lash line and smile creases. Once incisions are made, he will remove excess fat, muscle, and loose skin. The incisions will then be closed with fine sutures. Patients who have just eyelid puffiness caused by excess fat may be candidates for transconjunctival blepharoplasty in which excess fatty tissue is removed through an incision on the inside of the lower eyelid. After the blepharoplasty, Dr. Donath will remove fat from the donor area with methods somewhat similar to liposuction, but with much more attention to keeping the cells alive. The abdomen hips and thighs are common donor sites. The fat is then prepared and carefully and methodically reinjected into the recipient sites in the face.
Call today to schedule your consultation
How long does LuxeEyes take to perform?
LuxeEyes may take about two to four hours to complete depending on the extent of the work and the technique used.
What is the recovery time for the LuxeEyes procedure?
Patients may experience Some soreness and tightness of the eyelids after surgery along with temporary dryness, itching, burning, tearing, sensitivity to light, and blurred or double vision. Discomfort can be managed with prescription pain medication. Swelling and bruising may occur and can be relieved with cold compresses and keeping the head elevated. An ointment will need to be regularly applied to the eye area for a period of time to help prevent dryness. You may experience some minor discomfort after the fat transfer portion of the procedure, thou this tends to resolve quickly. Redness, bruising, and swelling are variable but are greatly improved within 10-14 days. In general, the recovery for the LuxeEyes may subside after 14 days but could last a month.
Luxe Eyes Before and After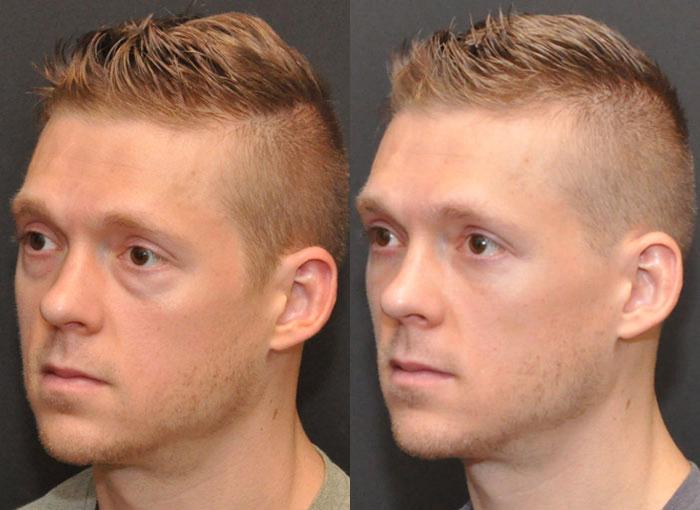 *Each patient is unique and individual results may vary.
When will I be able to resume work after the LuxeEyes procedure?
The time to return to work and other activities is variable and mostly dependent upon the individual. For the first week, most patients feel that they look too swollen to be in a typical work environment. However, patients that can work from home frequently return to work the very next day.
FAQs about LuxeEyes
What LuxeEyes office is near me?
If you live in the states of Ohio or Kentucky, Cincinnati Facial Plastic Surgery offers LuxeEyes among its services. For a full list of services, please visit our Locations page.
Why choose Dr. Donath — Board Certified Plastic Surgeon