Ready for a hot special for the last few cool days of winter?

30% OFF TOTAL FX Laser resurfacing in March!
State of the art skin resurfacing for lines, wrinkles, and sun spots!
Check out this link for an example before-and-after photo:
http://www.realself.com/photo/130742?offset=4&topic_id=39724

Also check out the newsletter below to learn about the benefits of a massage before your facial procedure, whether it's laser rejuvenation, a minilift, fat transfer (our exclusive Growth Factor Lift

SM

) or an eyelid lift.

For a limited time, get a $100 gift card to the deluxe pampering of your choice at Avalon Salon & Spa with any facial procedure!

Call today to find out more or to schedule a complimentary consultation!
Best wishes as we head into a much anticipated Spring!

Dr. Donath and the entire staff of Cincinnati Facial Plastic Surgery
www.cincyfacialplastics.com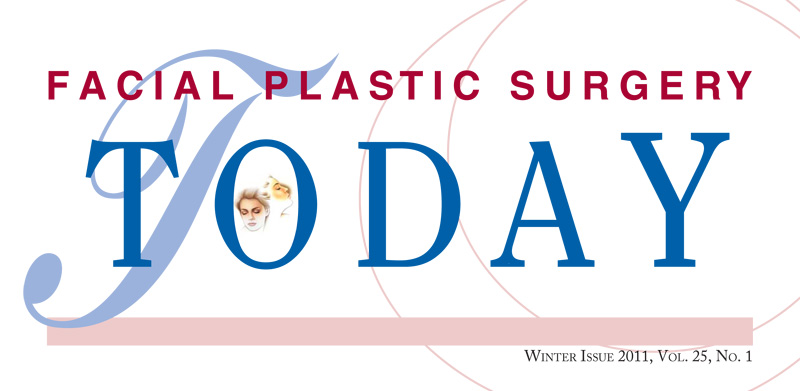 Are you feeling the pressure to look younger? You're not alone
Whether you are trying to keep your job, get a job, or just avoid aging like your parents, we all feel the demand to look our best. Several recent studies show that both men and women are concerned about their appearance and willing to take action to improve it.

An interesting survey of 10,000
people by Saga magazine evealed
that people over 50 are more cognizant regarding their aging
non-surgical procedures educated about plastic surgery (77 percent), and more use of non-surgical procedures to delay surgical procedures (72 percent).

The most common non-surgical procedure for both men and women was Botox. Overall, these non-surgical procedures increased by 79 percent in 2009 compared to 2008 data. The economy most likely influenced the growing trend of
appearance, with 62 percent believing they are more likely to be judged on their appearance than previous generations. Cosmetic surgery has nearly doubled when compared to a generation ago.

And men are now 14 times more likely to use anti-wrinkle cream,
with 10 percent currently using some sort of age-defying serum.

The Heat Group surveyed 500 female employees and found that onefifth of working women state they would consider cosmetic surgery to further their career. Approximately 30 percent reported discrimination atwork based on their looks. And 40 percent affirmed that they knew of a co-worker who had been hired or promoted due
to physical attractiveness rather than job performance.

According to facial plastic surgeons surveyed by the American Academy of Facial Plastic and Reconstructive Surgery, the latest trends in 2009 were people requesting cosmetic surgery to remain competitive in the workplace (80 percent agree), patients being more educated about plastic surgery (77 percent), and more use of
consumers having less-costly, less invasive procedures.

Also, there is a shorter recovery time, which often means more immediate results and a return to work the following day. Typical improvements include reducing frown lines (Botox), softening deep wrinkles (filler injections), and smoothing skin (laser resurfacing, chemical peel, or microdermabrasion).

The most common surgical procedure for women was the facelift; rhinoplasty was the most popular procedure for men. Surgical cosmetic procedures increased by 13 percent and reconstructive procedures also increased by 31 percent in 2009.

Obviously, you are not alone. Acceptance, accessibility, and affordability have played a role in the pressure to look younger. Today, it is more acceptable to fight against the aging process. Noninvasive treatment options have made taking action more affordable and accessible to a wider population. For more information, schedule a consultation appointment with your facial plastic surgeon.


Knowing the laser language and the different types. Which one will
Lasers light amplification by the stimulated emission of radiation provide an excellent option for helping you achieve a younger, more vibrant you. How do lasers work? What procedures use lasers? How can I benefit from lasers? Find out more information about what your facial plastic surgeon has available so you can discuss your optimal choices at your next consultation.



Laser introduction


A laser is a beam of light that can selectively transfer its energy into tissue to treat the skin. The light beam
the reticular dermis. Superficial wrinkles and slight pigmentation problems generally originate in the epidermis. Scars and deep wrinkles involve the papillary and reticular layers. Ablative laser resurfacing can remove the epidermis and penetrate into the papillary dermis; this eliminates the superficial wrinkles and blotchy pigmentation.

Extensive scarring and wrinkles in the reticular dermis can be made less noticeable with resurfacing, but not eliminated entirely. After resurfacing, during the repair process, your skin rebuilds the tissue allowing a fresh
can be varied in its intensity and pulse duration. The wavelength and power output of a particular laser determines its medicinal application. Many procedures can be performed with different lasers. The choice of the laser depends upon many factors, including the surgeon's experience, the size of the area to be treated, skin type and color, and the expectations of the patient.

Lasers can be used to reduce wrinkles around the lips or eyes, even the entire face, softening fine wrinkles and removing certain blemishes on the face. This type of resurfacing may be referred to as laser skin peeling.

The appearance of birthmarks and skin lesions can be improved by laser resurfacing. Port-wine stain birthmarks respond remarkably well to laser treatment. The abnormal blood vessels that cause these marks are reduced in size by the laser. This results in a lightening of the treated area. Skin growths, facial "spider veins," warts, and some tattoos respond to laser surgery. Most
situations take more than one laser treatment, but some respond to a single treatment.

Technological advances will lead to new applications and new generations of lasers. Talk to your facial plastic surgeon to see what is available.




How it works


There are two types of lasers that work very differently on your skin, ablative and nonablative. Ablative (skin removing) lasers produce a powerful beam of bright light that heats water within the surface layers of the skin causing both the water and the tissue to vaporize. The depth of laser resurfacing is dependent upon the light wavelength, power utilized, and pulse direction. The carbon dioxide laser (CO2) and the Erbium YAG laser are examples of commonly used ablative lasers.

Your skin is made up of the epidermis (outer layer) and the dermis (underneath). Within the dermis are two levels, the papillary dermis and
new layer to become the skin surface. You may experience some swelling and redness for several days. Antibiotic ointments may be used during the healing process. Be sure to follow all the postoperative directions of the surgeon, especially using sunblock and avoiding sun exposure.

The full impact of the laser may not be apparent for a month or two, especially with vascular deformities. Additional treatment sessions will not be scheduled until the healing process for a particular treatment is complete.

Nonablative or fractionated lasers, conversely, have lower energy levels than ablative. The heat of the laser stimulates collagen production in the dermal layer with little damage to the epidermis layer. The collagen growth may improve skin tone, texture, and fine wrinkles. These lasers usually require multiple treatments-with little or no recovery time-to bring about the desired results. Light-based devices, e.g., Intense Pulsed Light (IPL), use flashes of light
DON'T FORGET: LASER SPECIAL! 30% off in March!
work for you?



(technically not a laser) to stimulate the dermal tissues. These nonablative treatments may be referred to as photo rejuvenation.

Although there is little or no downtime after treatment, your facial plastic surgeon will still provide postoperative instructions to maximize your results, such as moisturizing the area and using sunblock.



Advantages


Rejuvenation treatments with a laser provide reliable, safe, and effective, outpatient procedures to minimize the appearance of damaged or wrinkled skin. Lasers may offer you and your facial plastic surgeon the following benefits:

Performed usually with a local anesthesia
Little or no bleeding, reducing risk of infection
Controlled precisely, limiting damage to surrounding, healthy skin
Improved restorative results

These advantages, combined with the economic climate, have led to increased popularity for laser resurfacing. Compared with 2008, laser resurfacing increased in 2009 by 57 percent, according to a survey published by the American Academy of Facial Plastic and Reconstructive Surgery, making it the fourth most popular cosmetic procedure of 2009. While it cannot turn back the clock, laser resurfacing can renew your skin and take years off of your appearance. You may be an ideal candidate if you suffer from skin damaged from the sun, uneven pigmentation, fine line wrinkles (e.g., crow's feet, smile lines), acne scars, or superficial skin cancers. Make an appointment with your facial plastic surgeon for a skin evaluation and to discuss what options may meet your needs.




ASK THE SURGEON



Does pressurized oxygen therapy help you to heal faster? The concept of Hyperbaric Oxygen Therapy (HBOT) dates back to the 1600s; however, it wasn't until the 1960s that the Undersea and Hyperbaric Medical Society formed guidelines regarding this type of treatment. The first chamber was constructed in the 1970s.

Healing cannot take place in the body without the appropriate oxygen levels in the tissues. While most people have adequate oxygen—unless you have circulatory problems—the extra oxygen from HBOT dissolves into all of the body's fluids and enhances the white blood cells' ability to fight infection. It promotes new capillary development and new connective tissue. Talk to your facial plastic surgeon for more information.




HEALTH TIP



Whether it is the cold, whipping wind outside or the hot, blasting air inside, your skin will need some extra care over the winter months. To combat the weather, choose a heavier moisturizer to apply daily. Look for lotions containing "humectants," which are a class of substances (e.g., glycerine, sorbitol, alpha-hydroxy acids) that attract moisture to your skin. You may want to try an ointment moisturizer that is oil-based, rather than the water-based cream you use in the spring and summer. Just be sure the oil is appropriate for the face—avocado oil, mineral oil, primrose oil, or almond oil; usually the label will say nonclogging. These thicker lotions will create a protective layer on the skin that retains more moisture.

And even though the suns rays are not as strong, it doesn't mean you don't need sunscreen. Apply a broad-spectrum sunscreen to your face 30 minutes before going outside.

Dig out your humidifiers—they put moisture back into the air, which helps prevent your skin from drying out.

Stick with your skin cleansing routine, but don't overdo it with masks, alcohol-based toners, and harsh peels. If your skin is dry, these products can worsen the dry area and make it uncomfortable. Instead, look for a mild foaming cleanser, "deep hydrating" masks, and a toner with no alcohol. Avoid anything clay based, which tends to draw moisture out.




WHAT'S NEW?



Dysport gained approval from the United States Food and Drug Administration for cosmetic use in July 2009 and is still commanding a lot of attention as an alternative to Botox. Prescription Dysport is an injection of botulinum toxin used to temporarily improve the look of moderate to severe frown lines between the eyebrows. Dysport stops the signal from the nerve to the muscles, resulting in a reduction of muscle activity and temporarily preventing contraction of the muscles that cause frown lines. While Botox has had a strong hold on the injectable toxin market since April 2002, studies are underway to look at how the two compare. Talk to your facial plastic surgeon to find out which is the better option for you.



Innovative ways to optimize your healing
Your facial plastic surgeon seeks to combine state of the art reconstructive and cosmetic services with nurturance and inclusive care. Your physician is treating the whole patient with supplementary services to reduce nervousness, enhance healing, and maximize patient satisfaction. The following suggestions may help you sail more smoothly through your next procedure-from pre-op to post-op.

Research has shown that the more relaxed and comfortable a patient is before surgery, the better his or her convalescence. Your facial plastic surgeon may recommend a few days
Mount Sinai researchers reviewed 20 different studies on hypnosis and surgical pain and found that for those patients susceptible to its effects, adding hypnosis to standard post-surgical care sped recovery in terms of pain, anxiety, and the need for painkillers.

A less well-known treatment is hyperbaric oxygen therapy (HBOT). The patient is placed into a chamber to breathe 100 percent oxygen at greater than normal atmospheric pressures (usually up to two times greater) for an hour or so. Normally, we breathe approximately 20 percent increased pressure combined with
before surgery or the day of surgery such things as aromatherapy, relaxing music, guided imagery tapes, reflexology, or acupressure. A massage can improve circulation, deepen relaxation, and provide an increased sense of physical and emotional well-being. This relaxed state helps minimize the release of epinephrine and cortisone; these hormones increase the body's tendency to swell and bruise. Your physician may also recommend these same treatments to relieve pain and promote healing after your procedure.

Hypnosis is a trancelike state characterized by extreme suggestibility, relaxation, and heightened imagination. Some patients use selfhypnosis to visualize the success of the surgery and the success of the recovery. They focus on the flawless procedure, the healing body, the ease of blood flow, and the return to normal energy levels.
an increase in oxygen, dissolves oxygen in the blood plasma and in all body cells, tissues, and fluids, at up to 10 times normal concentration. This increased oxygen to tissues stimulates growth and repair.

Your facial plastic surgeon may recommend various homeopathic remedies or dietary supplements, e.g., arnica or bromelain, which may help minimize swelling and bruising. Do not take any pills or supplements without the approval of your doctor, as they can impede the healing process.

Discuss with your facial plastic surgeon how you can plan for a stress-free experience that will allow your body to respond and recover optimally after your next treatment or surgery.




DON'T FORGET: $100 GIFT CARD TO AVALON SALON AND SPA with any facial procedure, for a limited time!

Get a massage before your procedure and a facial, hair styling or coloring, or a manicure/pedicure after!


513-891-LIFT (5438)
www.cincyfacialplastics.com


Cincinnati Facial Plastic Surgery | 7763 Montgomery Road, Suite A, Cincinnati, OH 45236 | 513-891-LIFT (5438)